Rome was the highlight of my trip--of my life really. Gawd, that sounds so cliche, doesn't it?
I don't care.
Rome is a place like no other. Being there was about as close to a religious experience as I'll ever have.
The only thing that sucked was that I was alone. It wasn't just me being worn out or skittish about finding my way around (that was all put to rest once I arrived). I just really wanted someone to share this with.
Also, Rome at night is SO romantic (really all of Italy was, but especially Rome), and seeing all the happy couples strolling about made me miss my husbitch even more. I couldn't even call him because I would have been too stressed out the cost.
Anyway...
Almost half of the nearly 600 pictures I took were of Rome. I couldn't get enough of this place.
I arrived at Termini train station and followed the directions the hotel staff had given me via email before I left the states. The Metro in Rome is super easy, so that didn't hurt.
Before boarding, you have to buy your ticket and there are self-serve machines in the station. Luckily there is an option to do it in English, but once I did it the first time, I didn't need to push all those extra buttons as it was pretty clear cut.
So, you buy your ticket from one of those machines, slide it through the validation machine at the turnstile and you're on your way.
I'll stop here for a moment to discuss the ticket validation thing. Even on the bigger, intercity trains, you MUST validate your ticket before boarding. There are timestamp machines in front of every train, and if you forget, there is a hefty fine (something like 35 euro).
Suprisingly, I never forgot to validate my ticket.
So, I took the Metro the two stops from Termini towards Basttini, and got off at Barberinni. Still with me?
My hotel was located just a short half block walk from the station. And I was very thankful for that. My suitcase weighed A LOT by the time I got to Rome. Not only did I have what I brought with me originally, but also 4 bottles of wine from that vineyard. And there weren't always handydandy escalators everywhere I needed to go.
Several times a kind soul would help me up or down the stairs when they noticed I was ready to keel over from dragging my ginormous suitcase by myself. Would that happen in Chicago or New York? Maybe. But I was thankful that there always seemed to be someone around when I didn't think I was going to make it, and I know I uttered, "Grazie mille" or some version of that about a thousand times.
My hotel was swank! And I needed a cushy place to lay my head at this point.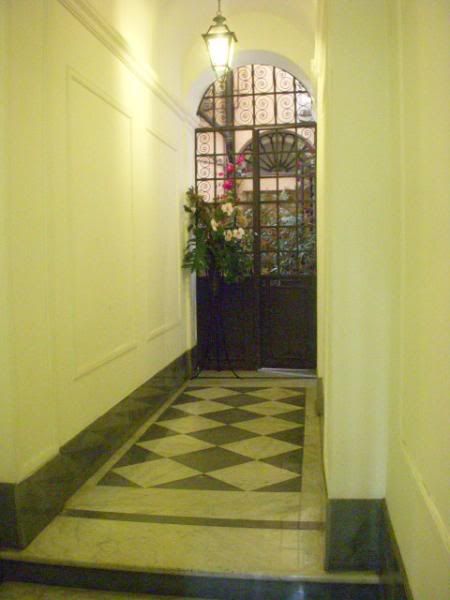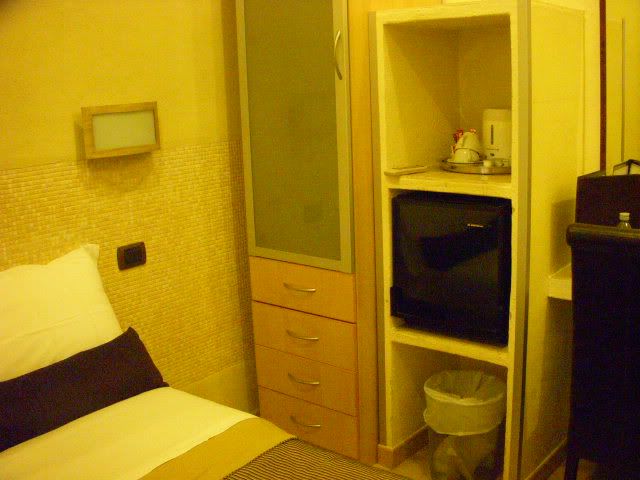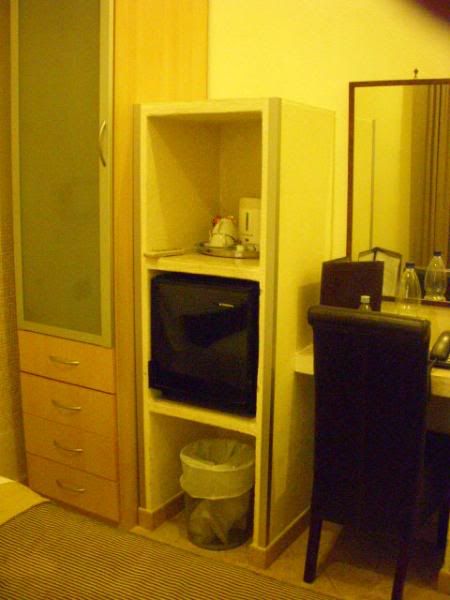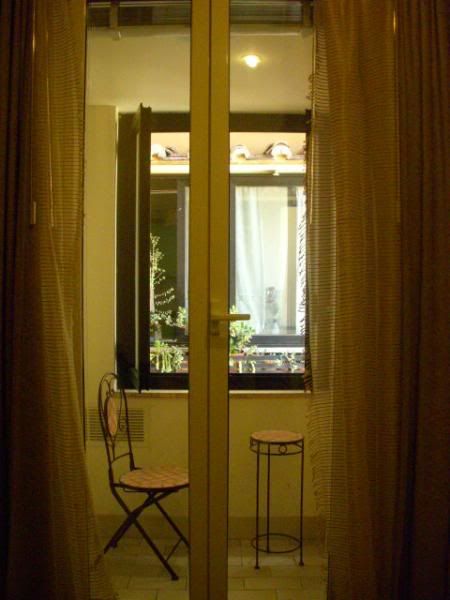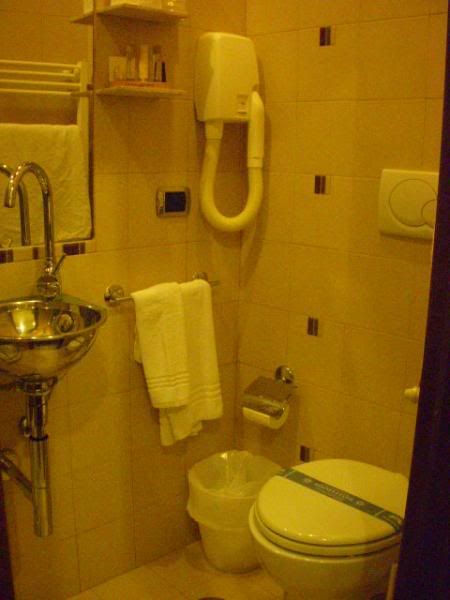 Hot, stinky and tired, but SO happy to have super air conditioning: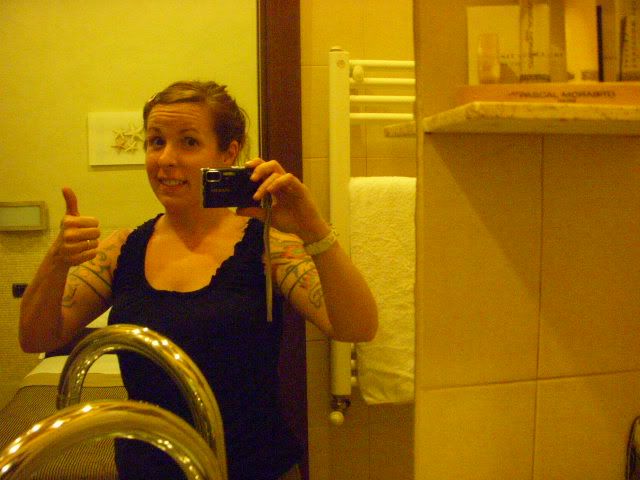 I was there way before my room was ready, but the man who checked me in gave me a map (and a cell phone to use during my stay) and kindly ignored the fact that I was stinkin' up the place. It was only about 10 am, but it was already in the 90's outside.
I had purchased a ticket good for 48 hours for a hop on/hop off bus tour of Rome. It was a cool open air top, and they hit all the big spots. One of the stops was just up the street from my hotel (hooray!), so I hopped my ass on and I was on my way.
It was a nice way to get the lay of the land from up high, and get a sneak peek at what I would explore further later that day and the next.
Most of the cars on the road around us were Smart cars, Vespas, small motorcycles or other tour busses. And everyone drives like they own the damn road. Things like "right of way", merging, and even stop lights are merely suggestions here.
There were a few times I and the German tourists sitting behind me collectively cringed and gasped as we watched from above the imminent crushing of several mopeds and impossibly teeny cars weaving in and out of traffic.
It's like this: You know when you're driving 355 and there's construction (duh), and there are signs that the lanes are decreasing? Most people get over in plenty of time, but there's always that one asshole who waits until the very end to try and get to the front of the line, butting his/her way in like they are more important than everyone else?
That's how EVERYONE drives in Rome.
The ride on top of the bus in the sweltering heat made me feel like a piece of bacon in a frying pan. Oh, the irony. Good thing I had the forethought to slather on the sunscreen
I got some lopsided pics of some sights from the top of the bus (I won't torture you with those--the "good" ones are further down this post), but I did get some good shots of what I'm calling "Life in Rome". I was just so blown away that people work and live around such amazing historical architecture.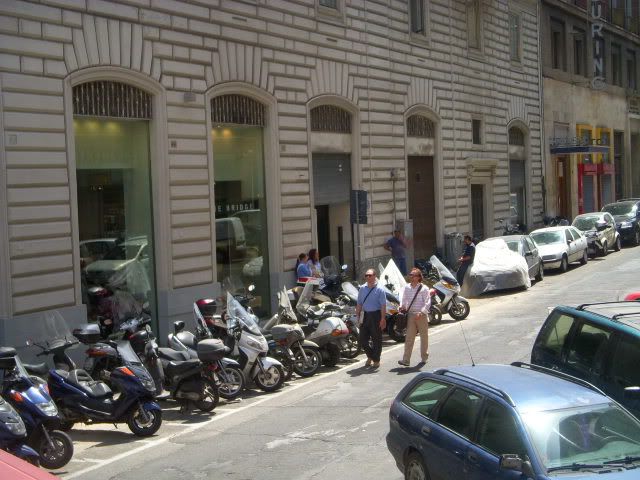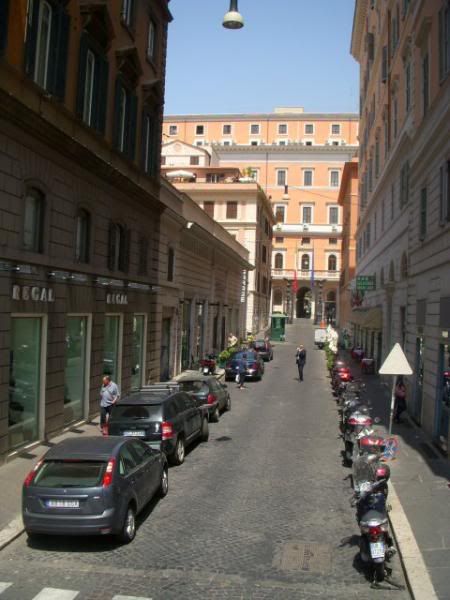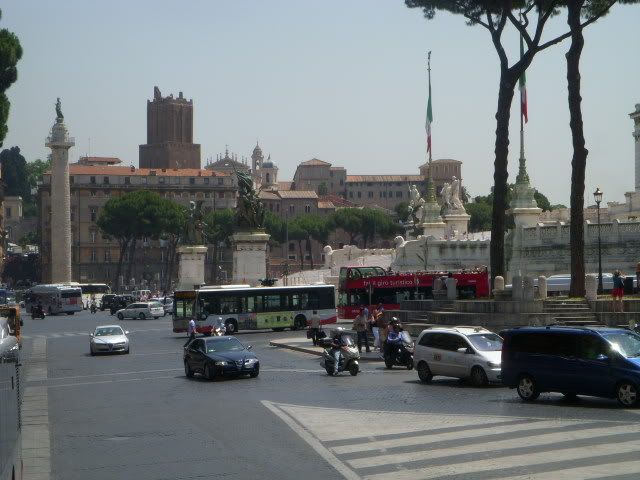 I rode the bus all the way around and got back off at the stop near my hotel. I needed a shower and some quality time with my map to plan the rest of my evening.
The hotel staff suggested I wait until the next morning to hit the Colosseum, et al because it would be less crowded and the sun not quite as searing.
Originally, I wasn't planning on going to Vatican. Not for the reason you might think. I just didn't think I would make it out there with all the other things I wanted to see. But it was evening and I hopped an easy Metro ride out there.
Since it was after 4pm, the museum was closed, but I did get to stroll around St. Peter's square. Holy (for reals) Shit! Amazing.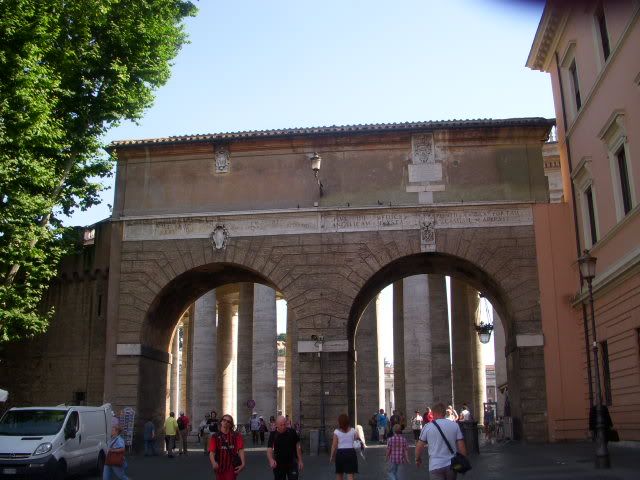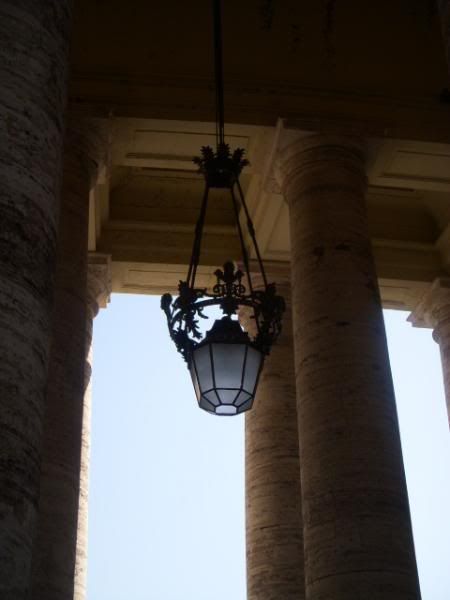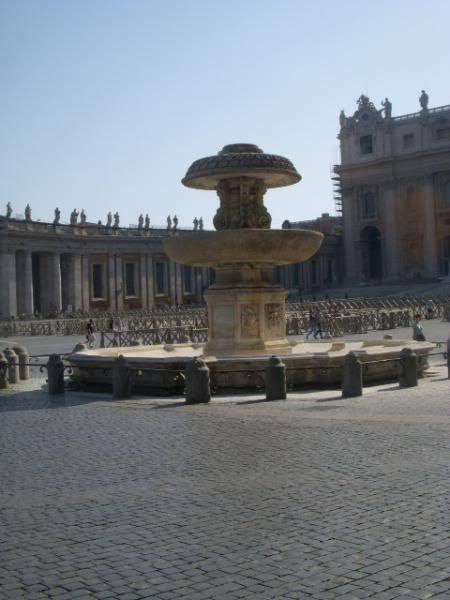 (a little crooked--oops)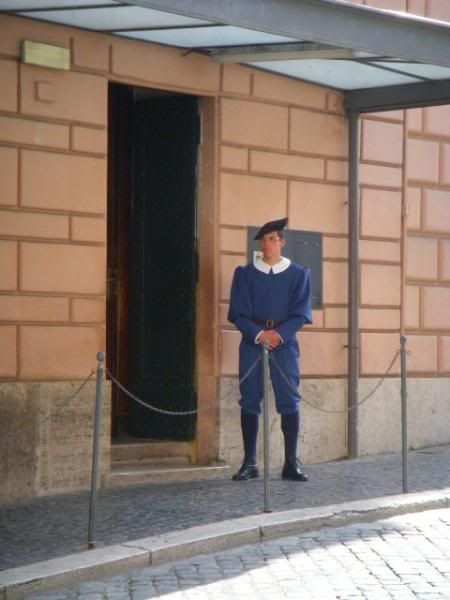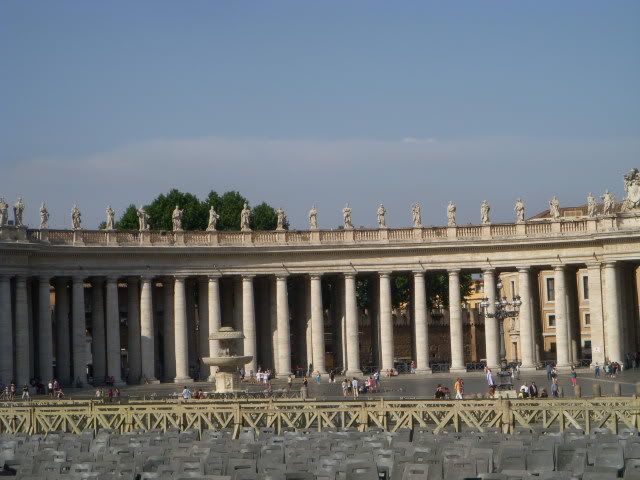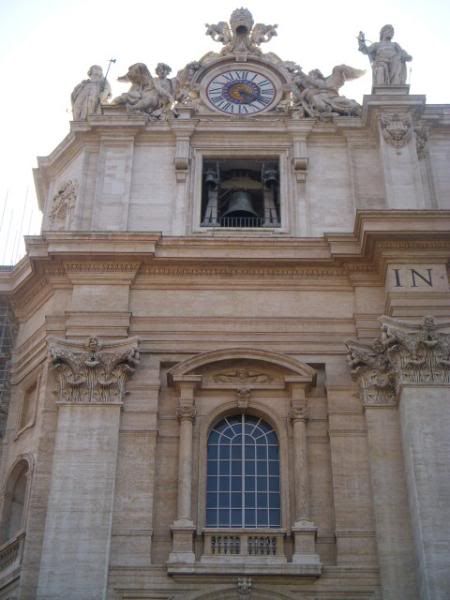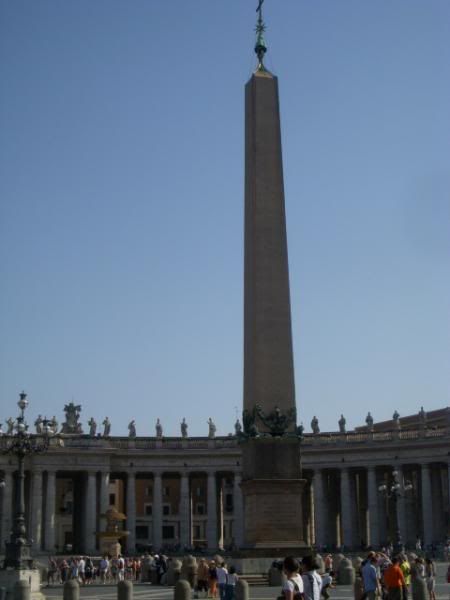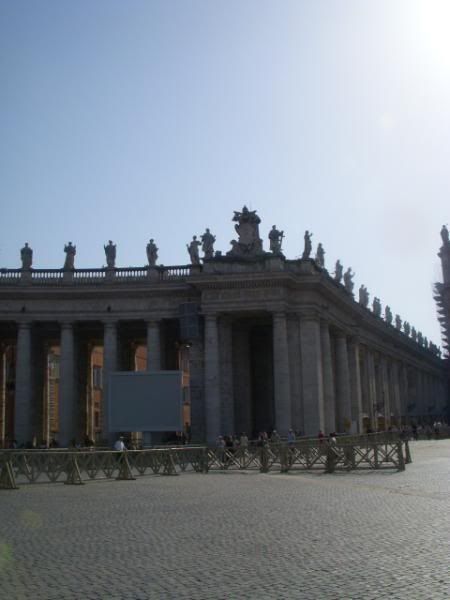 I found this particular statue breathtaking:
This (admittedly badly-angled) shot is of the stone "plaque" the current pope had placed where the last pope's would-be assassin stood when he took the shot back in 1979(?).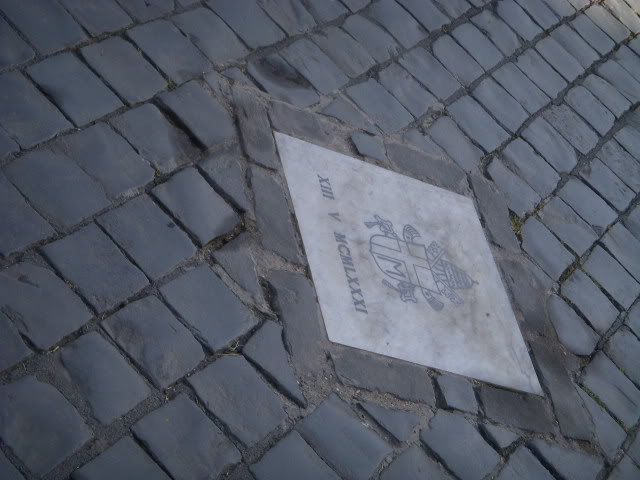 The rest of this day and the next were a whirlwind of walking, sightseeing, eating, drinking, showering, and sleeping.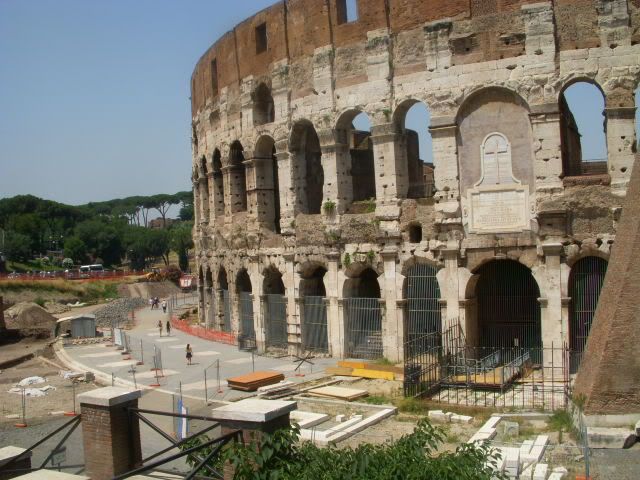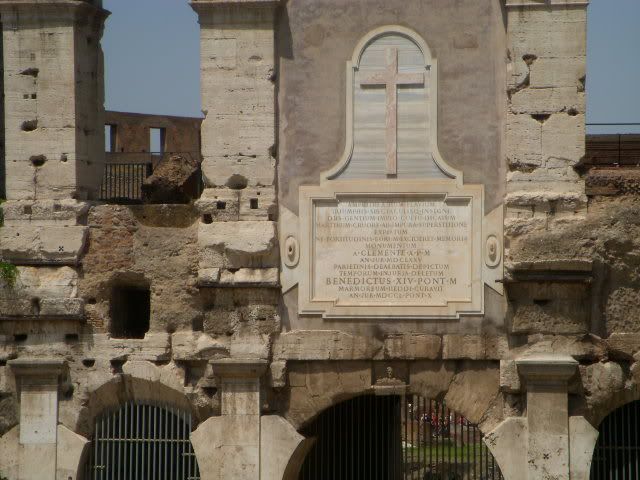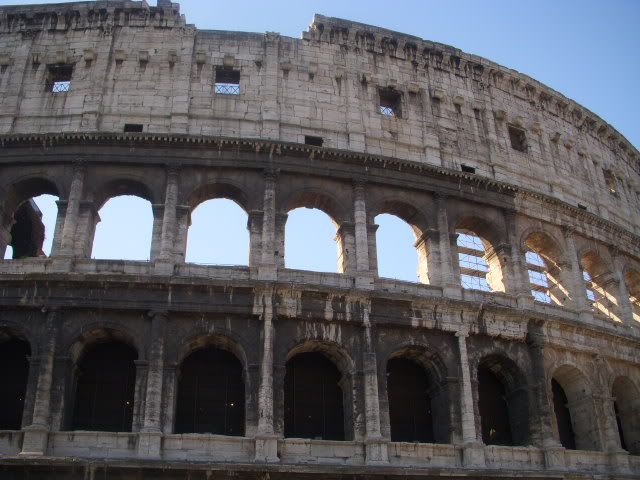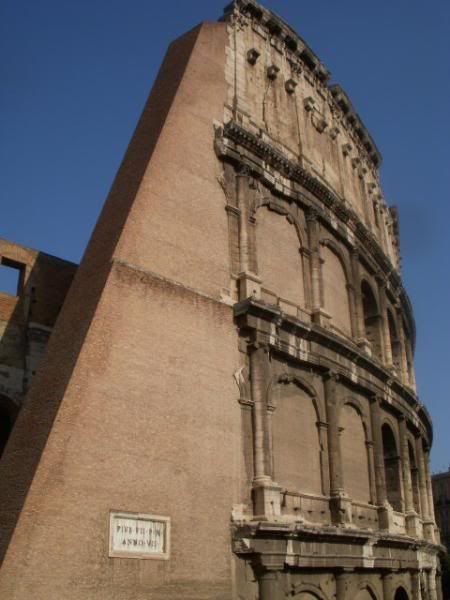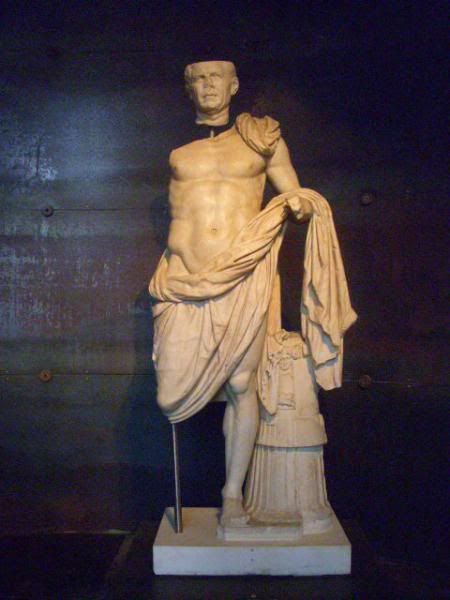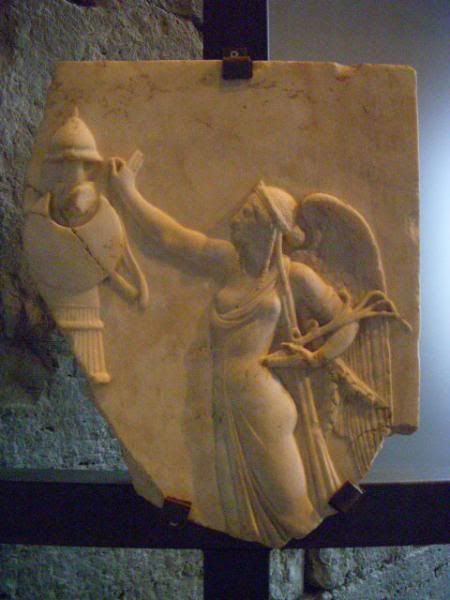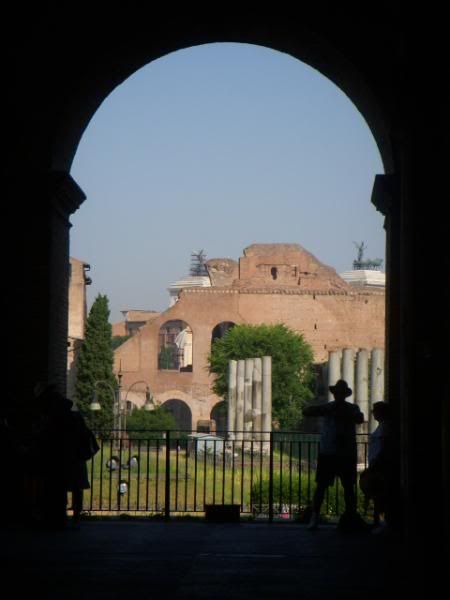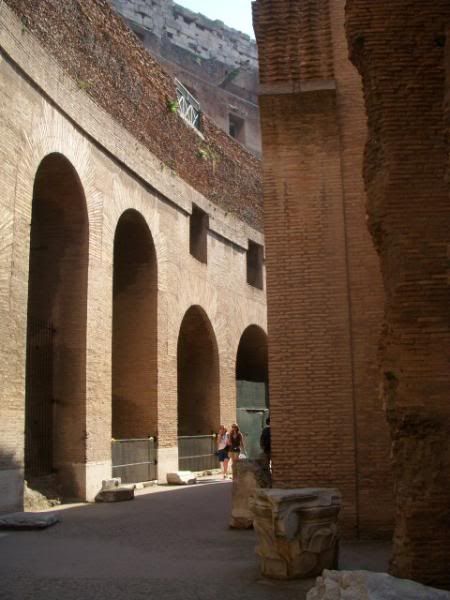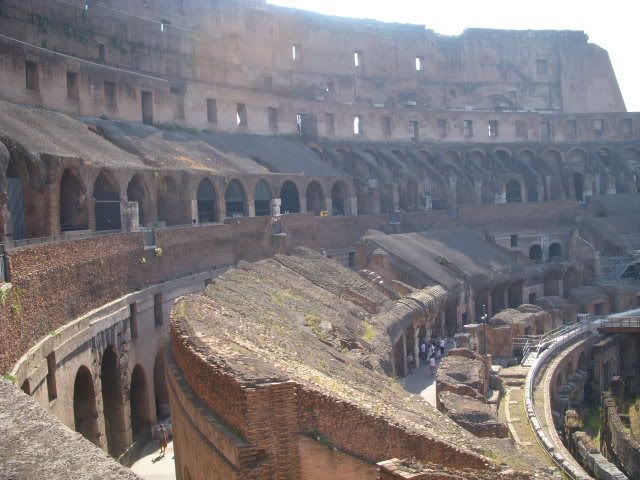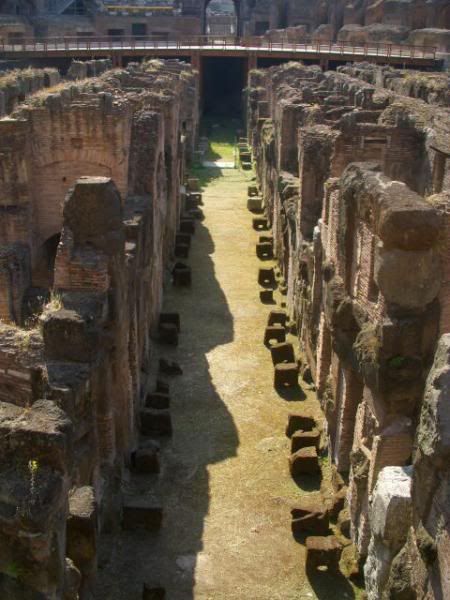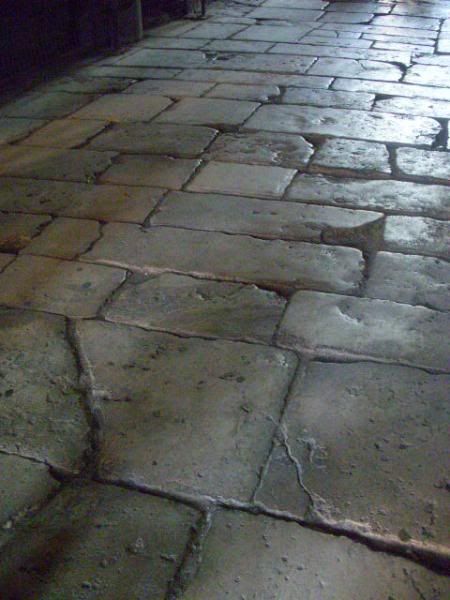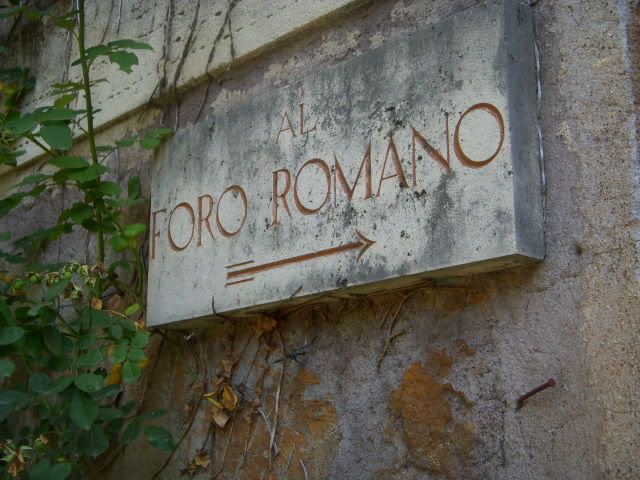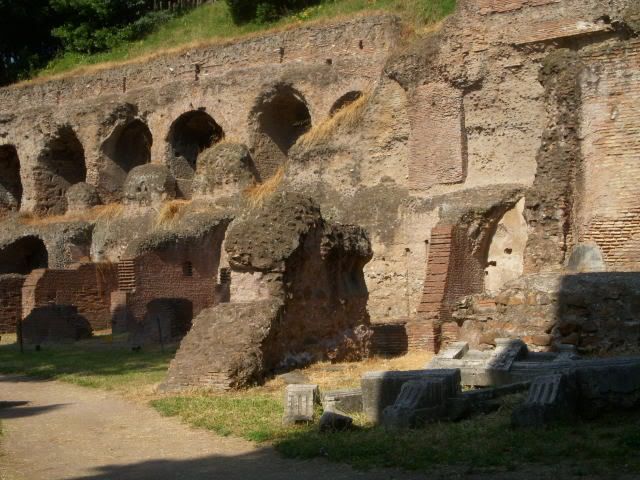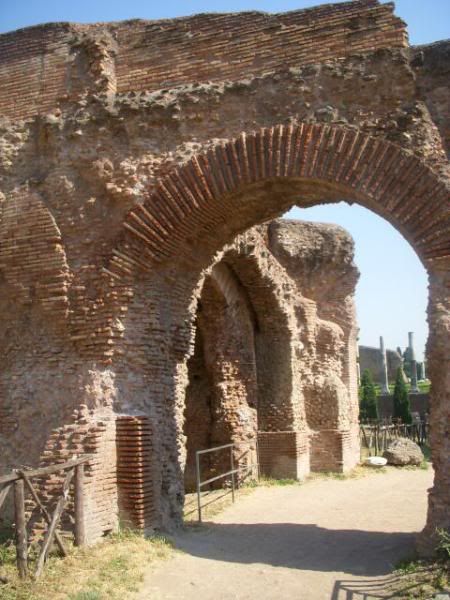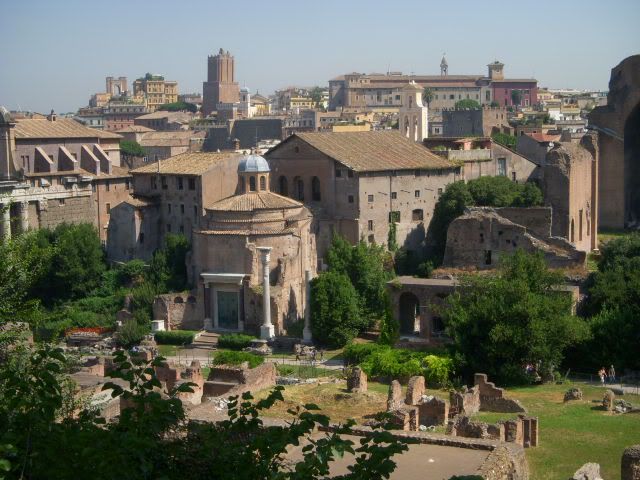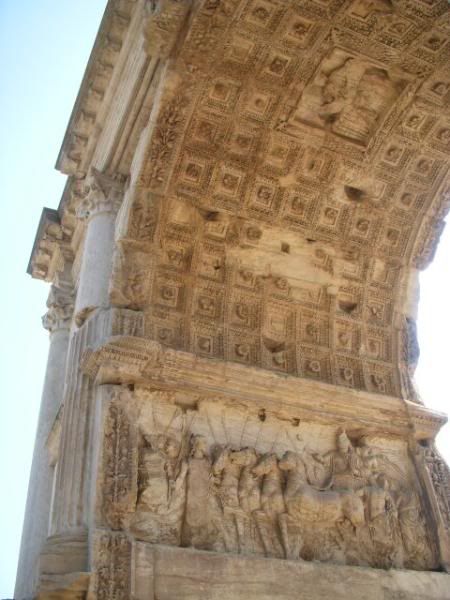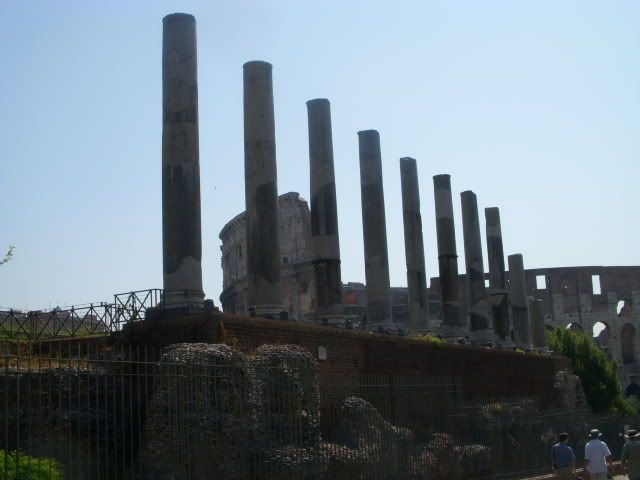 Trevi Fountain before sunset: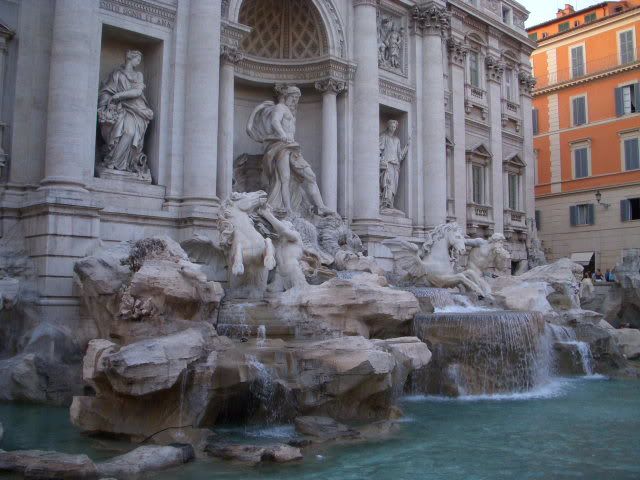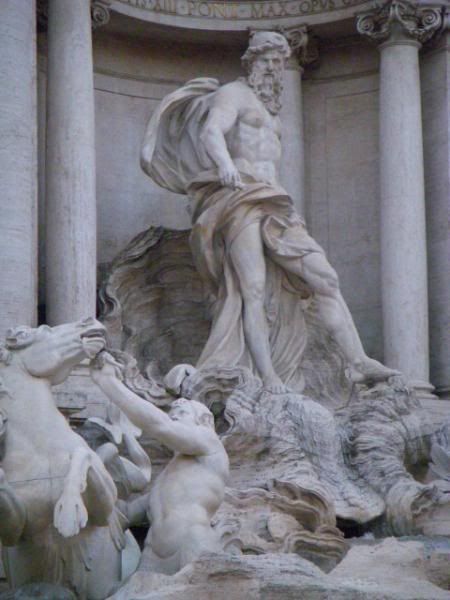 And after (the height of my lonely. *sniff*):
The Spanish Steps at night and views from and around there: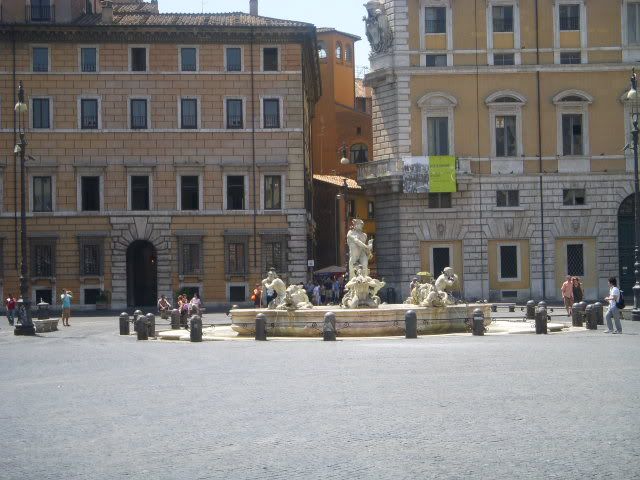 Pantheon. I had lunch in this square.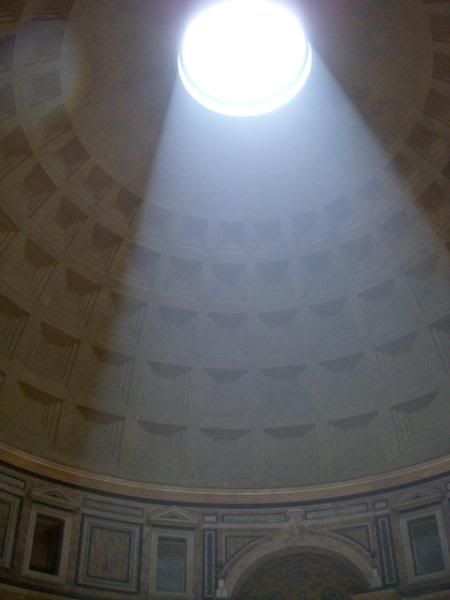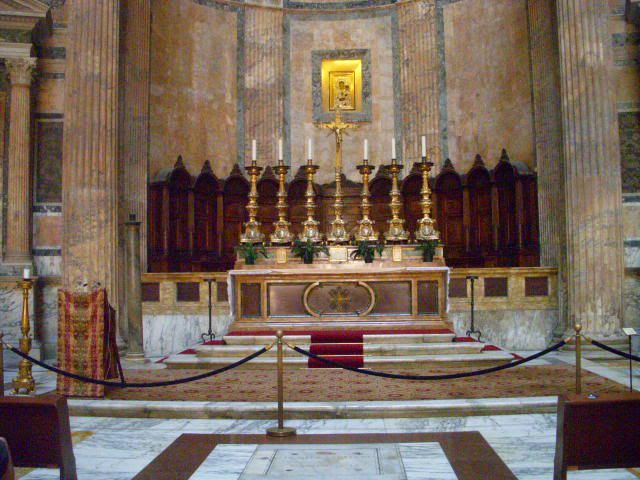 Friday night, I took a night tour called "Dark Rome". It was fun. Rome is even cooler at night.
One of our tour guides had her adorable dog with her.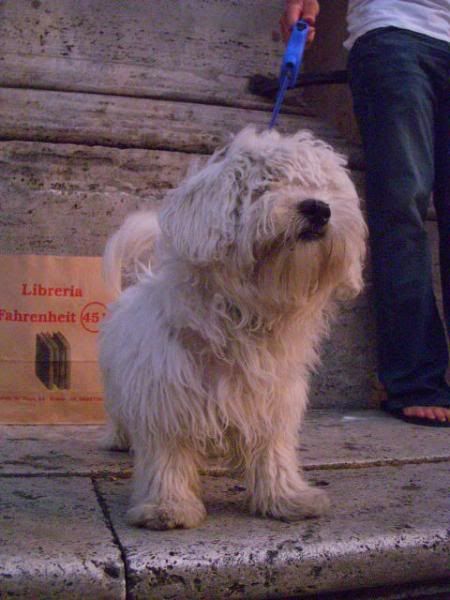 This church used to bury to poor who couldn't afford a proper burial. The artwork on the outside of this building was right up my alley. Had I been able to stay one more day I could have gone inside and seen furniture and even chandelliers (sp?) made from bones!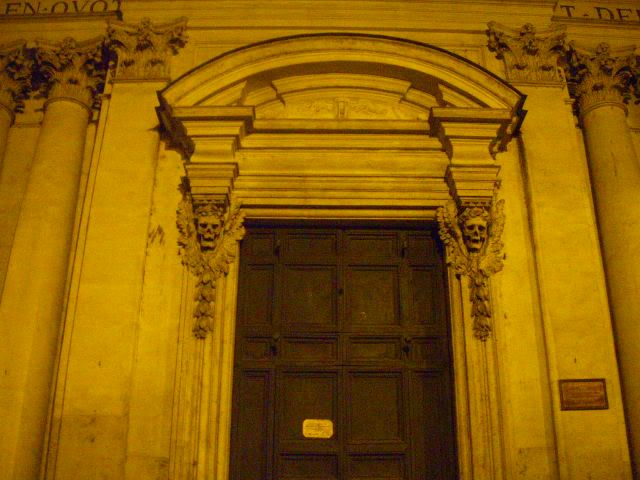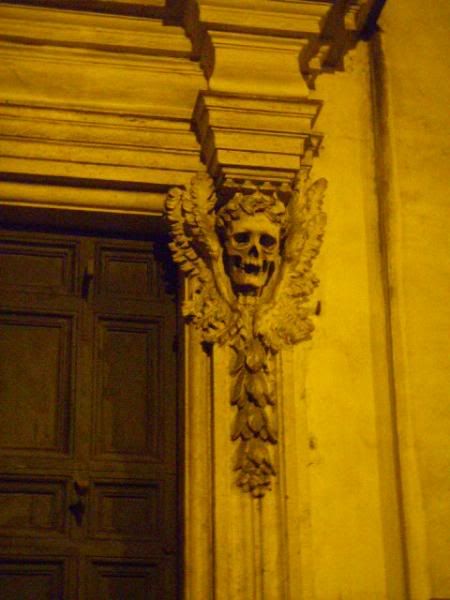 They used to house the Pope here. It's in Castel di San Angelo. This was the last stop on the night tour.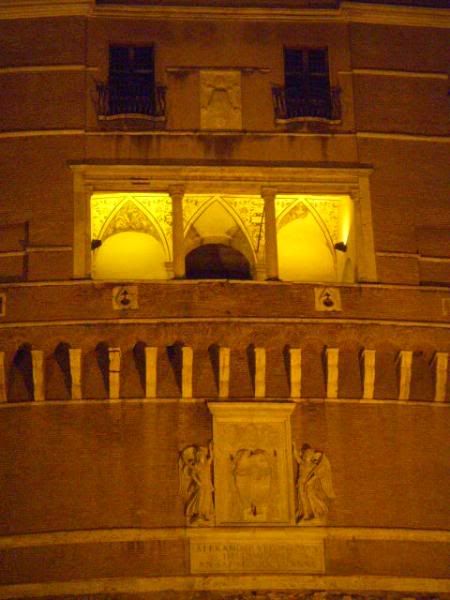 After the night tour was over, and because I had already gotten lost twice that day, I was beat. It was getting late, so I walked down to St. Peter's to catch a cab. It was the only time I took one, and there were no problems (even though every guidebook I read said to be wary). Between my sad Italian and his broken English, I got back to my hotel for the price he quoted me before I got in.
I had to get up really early, so I had packed up almost everything before I left for the tour.
I was sad that my trip was over, but kind of giddy that I was going back to home to my own bed, my kids and my man.
I really did fit a lot in those two days.
I will go back. Only next time, I'll have someone along for the ride.
My flight home was LONG. Over 11 hours. One of the male flight attendants took a fancy to me. He kept winking at me, and when I went back to ask for a cup of coffee, he asked me if I needed anything else. I told him that if he was hiding a steak back there, I'd be happy to take it off his hands. He made a comment in Italian that I can only imagine meant something along the lines of, "Yeah, I got a steak right here for you baby." because the other flight attendants giggled.
Whatever. I got my cup of coffee and ego boost for the day. I was happy.
When we landed at OHare, I was more than ready to inject a cigarette directly into my veins. But I had to wait for my luggage and go through customs. As soon as that was over, I was good to go.
My Mom picked me up and I stopped at my parents' house to show them the pics before heading home.
Pulling into my driveway was heavenly.
Everyone keeps saying, "Oh America (especially my town) must look SO boring now." But you know? It doesn't.
I think I appreciate the comforts of home even more now. Going on this adventure was a blast. And I WILL go back. Hopefully I will get to visit other parts of Europe in the coming years. But home is home. And it's all the more sweet when you've been away for a while.
After my kids got back from Grandma's house, I spent the day smelling thier head while soaking up all the snuggles they would allow. I swear they got bigger while I was gone.
They had just as much fun as I did splitting the week between sets of grandparents, and came back with three times as many clothes as I sent them with.
August is our next trip, but this time it's a family affair. In about a month I will be at Sea World and Disney World.
And be posting a million more pictures.
Ciao for now!