My washer and dryer came yesterday (and so did I when I saw them!). I haven't been this tingly in my girl bits since I bought the Dyson.
Dryer goodness:
Washer love: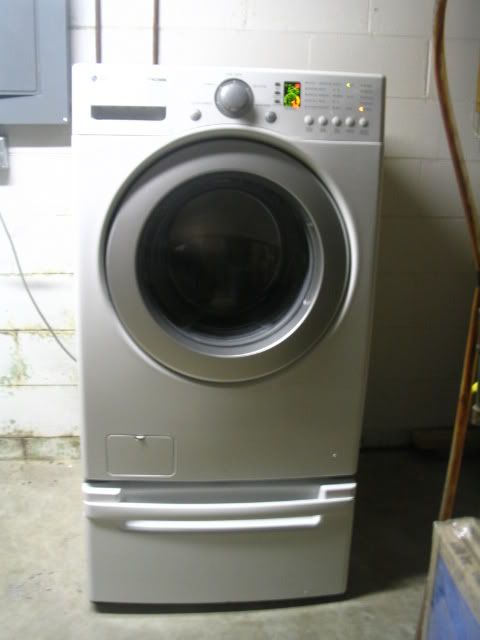 I've pretty much mapped out what colors are going in each room, and hopefully I can get all the painting done this weekend. The bedrooms aren't very big, and I think the prep work will be the biggest time suck of the project.
Master bedroom will have a muted aqua blue/brown color scheme. It's a seafoam-ish green now. The mirrored closet doors will, much to my husband's dismay, be replaced with trifold doors: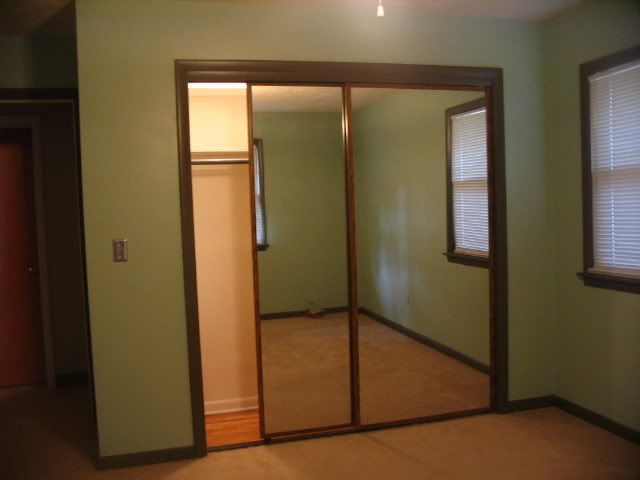 Mina's room is tan right now, but will be a pale pastel pink: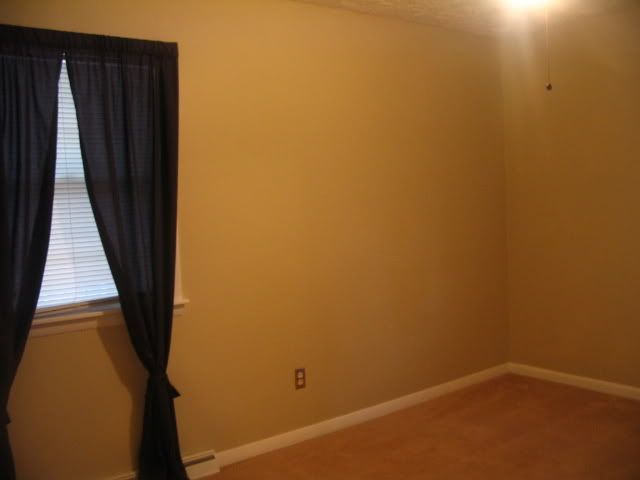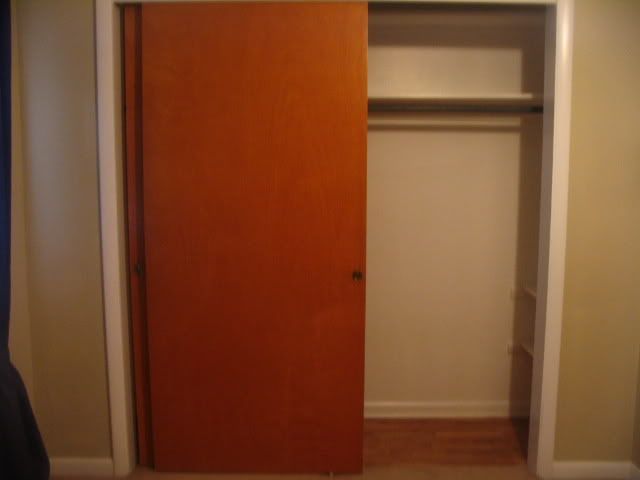 Audrey's room is a gorgeous blue, but I wanted to 'girl it up' a bit. It will be a light lavender: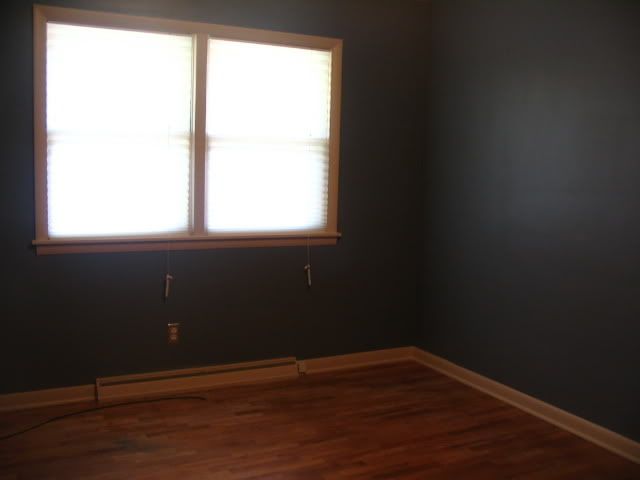 The living room is an ATROCIOUS burgundy red--just cave like and wrong for the size of the space. I'm thinking of going against type and doing three walls in a creamy tan-like color, with an accent wall of chocolate brown opposite the fireplace (the girls are in the pictures to show scale, naturally):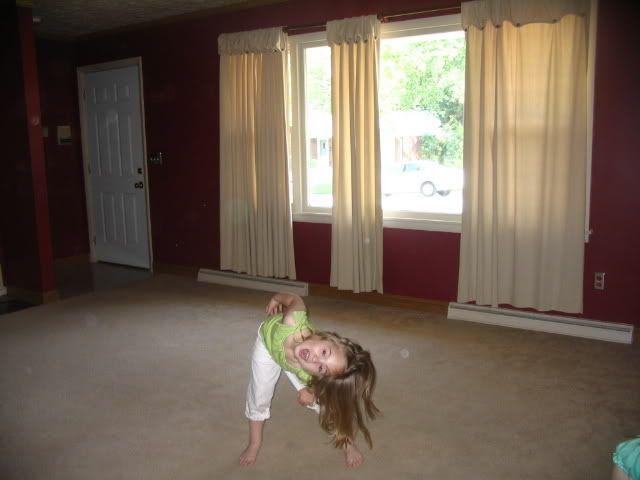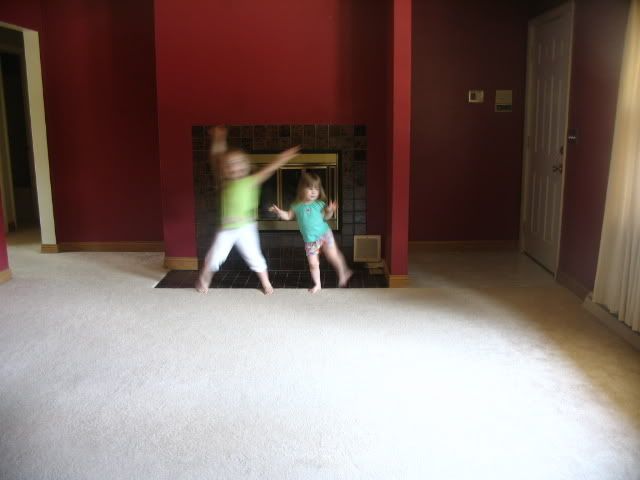 The upstairs bathroom needs a whole gut and remodel. It's not that anythings broken. I just changed my mind about liking the wood plank walls. The tile is way 80's, and not in a
good
way. We're going to do white subway tile up the walls and white floor tile, maybe relocate the tub closer to the window and replace the vanity with two pedestal sinks. I'm thinking citrus orange for an accent color. Before we can rip apart the bathroom though, we have to put a shower in the downstairs half bath. Either that, or not mind hosing off in the backyard.: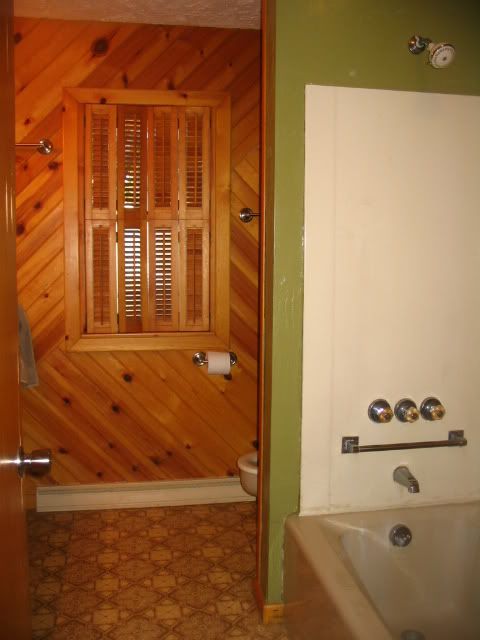 Then, there's the kitchen. I wish I got a close up of the cool back splash tile. It's this swirly pattern of blues and some green--very fun. Not that I didn't know that this was our perfect house already, but to add to the serendipitous nature of this whole thing, one of my very best friends has the EXACT SAME tile in her bathroom! Crazy.
The row of cabinets over the peninsula there is coming out this weekend as are a small cabinet over the fridge. I think I'm going to go with a blue-tinted white for the kitchen walls, and maybe light/weathered looking white laminate on the floor.: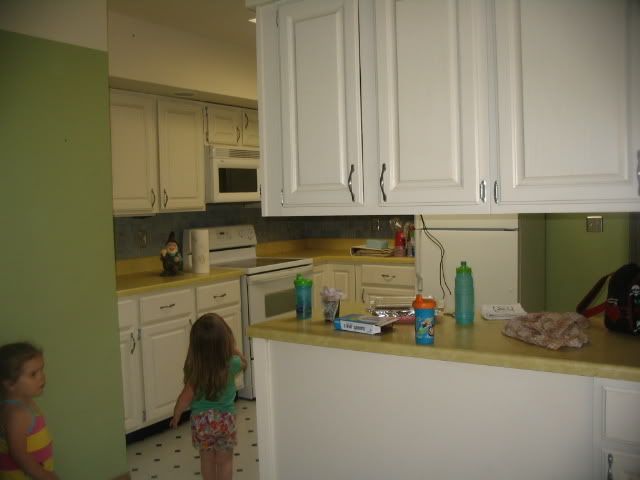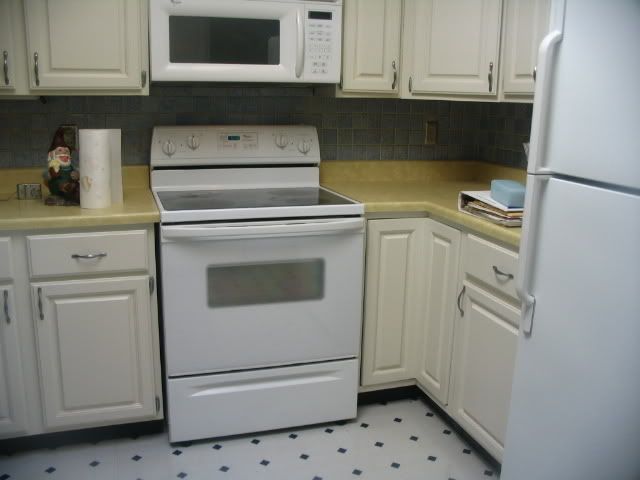 I'm going to be working my ass off this weekend, but at least this sweat equity is for our benefit as opposed to all the shit we put into our current house to sell it.
I got to meet our neighbor on the other side yesterday. A sweet elderly fellow who can't hear very well (probably a good thing considering how loud my family is).
He came over to let me know I left some lights on outside the night before. I thought he was complaining at first, but then he said he didn't want me "wasting any electricity". Unlike most people, I don't mind nosy neighbors. I AM a nosy neighbor. I see it as a kind of neighborhood watch thing. So long as he keeps his mouth shut about the goat sacrificing and midnight orgies, we'll get along fine.
I have yet to take my dogs over there. I should do that today so the boy dog can properly 'mark' every last blade of grass and the girl dog can run into the sliding glass door (her eyesight is not so great).
Work in progress photos coming this weekend!